Affordable Housing

CureX Asset Group LLC was founded in 2020 as a Diversified Consulting firm concentrating on providing essential support and organizational services to private and public companies. Headquartered in, Baltimore MD, CureX owns and operates several subsidiary companies including Curex Corp., a Real Estate investment, management, and development company with a focus on the Low income, section 8, and VA Housing markets. is a diversified Holding Company with corporate ownership and operating subsidiaries in a wide array of market segments and sectors.
T

he Management Tea

m:
The Management team has extensive experience building startup businesses and operating in the U.S., European, Middle East, and West African markets. Mr. Le'Von Warr, Elkhair Balla, Nick Eyde, and De'Andre B. Wells Sgt. US Army Ret, have a combined over 30-year record of accomplishment as real estate analysts, advisors, investors, financial advisors, entrepreneurs, and business owners. We have been able to identify opportunities and successfully negotiate complex markets for our investors to share in the success of all projects.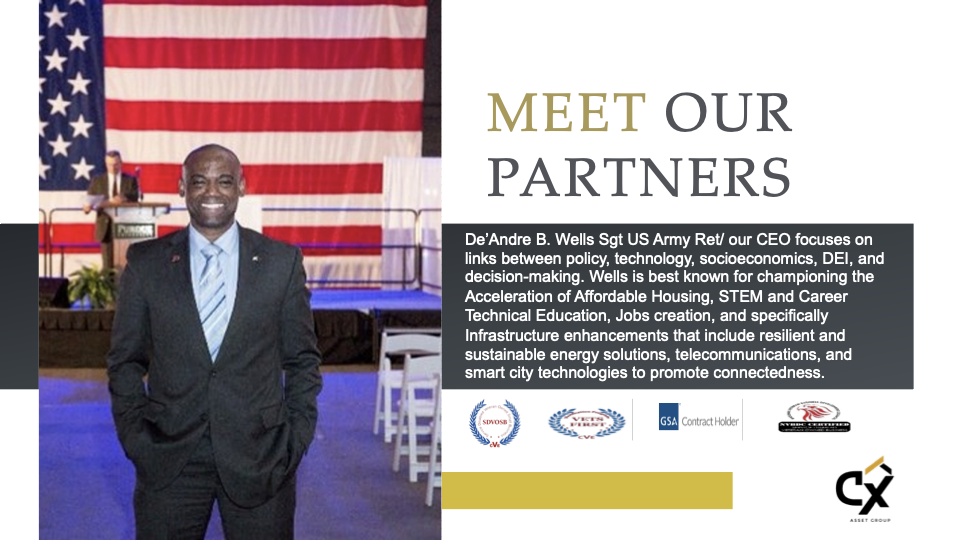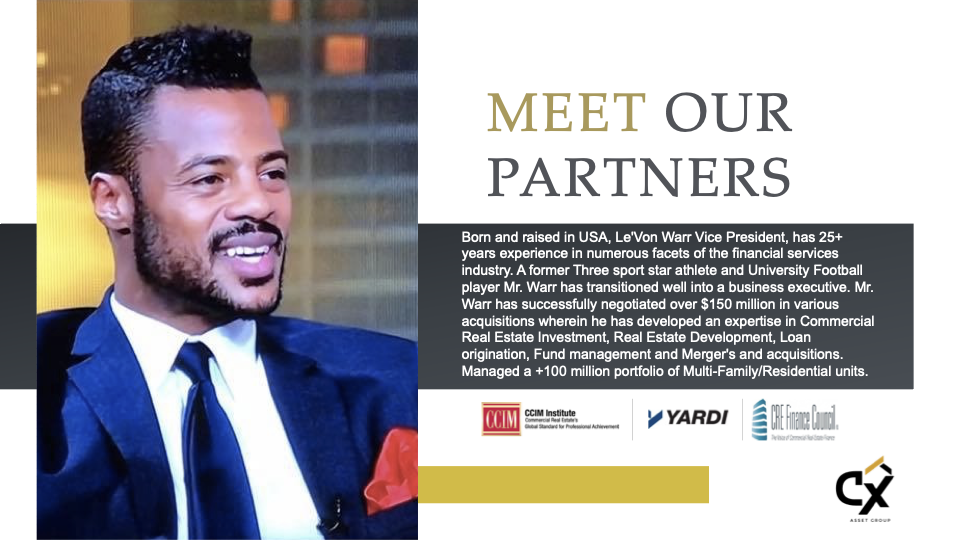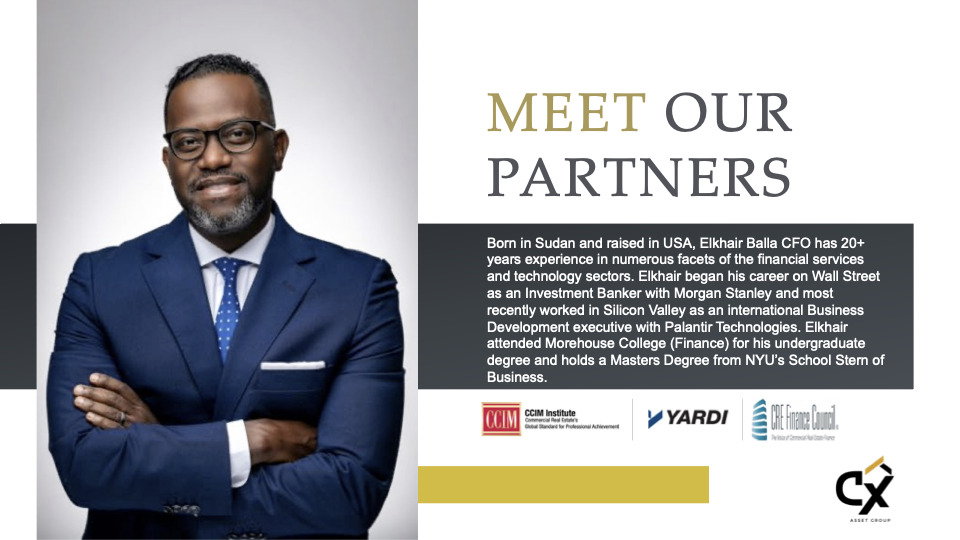 ---
What we do:
Building long-standing and productive relationships is key to the success of Curex Group LLC and its subsidiaries. We strive to give our clients innovative service with a delicate touch. Accordingly, Curex Corp, through its subsidiaries is proud to offer the following service areas to our clients:
International Consulting
Asset Management
Product Distribution
Investment Banking
Real Estate Acquisition, Development, and Advisory Services
Debt Acquisition and Debt Servicing
HUD-VASH Supportive Housing
Low-income Section 8
---
HUD VASH SUPPORTIVE HOUSING FUND:
According to a 2022 report by the National Low Income Housing Coalition, "Extremely low-income renters in the U.S. face a shortage of approximately 7 million affordable and available rental homes. Only 36 affordable and available homes exist for every 100 extremely low-income renter households (those earning up to 30% of the area median income.
The HUD-VASH program combines the HUD's Rental Assistance Demonstration Program with the VA's Supportive Services for Veteran Families Program to provide rental assistance and case-management services to eligible veterans and their families. HUD provides rental assistance through project-based Section 8 contracts, while the VA offers case-management services. We plan to expand our services through AGX, LLC to have an elaborate social safety net in addition to public services such as free education and universal healthcare. Strong property rights, contract enforcement, and overall ease of doing business are also key factors.
VA's Housing and Urban Development-VA Supportive Housing (HUD-VASH) program is a collaborative program that combines HUD housing vouchers with VA supportive services to help homeless Veterans and their families find and sustain permanent housing. VA case managers also connect these Veterans with support services such as health care, mental health treatment, and substance use counseling to help them in their recovery and to support their ability to maintain housing.
More here: https://www.va.gov/homeless/hud-vash.asp
---
Ob

jectiv

e:
This page sets out proposals for the expansion of Curex Asset Group's Real Estate assets. In addition, this page was created to highlight the overall project and an investment opportunity for Curex Asset Group's debt financing of USD $5,000,000 via a Convertible Note Offering. The HUD-VASH program provides housing and an array of supportive services to veterans experiencing homelessness by combining rental assistance from HUD with case management and clinical services provided by the U.S. Department of Veterans Affairs in US cities across the country.
CureX Assets is equity fundraising to acquire value-add multi- family of 12 new locations in LA County with an established US government program to end veterans' homelessness, with an existing 3600 surplus of veterans in need of housing. Our fund consists of multi-family & commercial properties with VA and Section 8 tenants nationally.
Whereby long-term leases will be signed, on average of 5 to 10 years, And a minimum cap of 6 percent per annum. All the projects we have under management are either in frontier markets or established markets with (depressed) non-performing/underperforming assets, therefore we can expect higher rates of return on our projects.
Goals: Our goal is to grow the fund to US 100 000 000 million within the next 3 years.
---