Los Angeles LandLords to receive a $3000 incentive for every new one-year lease for each un-housed Veteran using HUD-VASH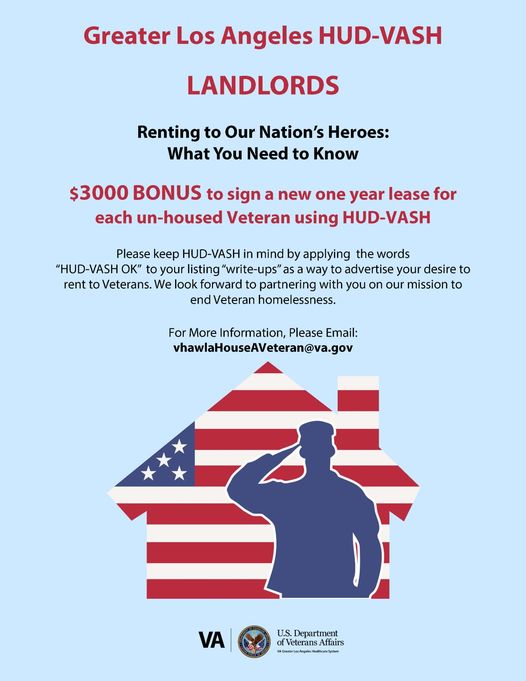 ---


Renting to Our Nation's Heroes: What You Need To Know
Please keep HUD-VASH in mind by applying the words "HUD-VASH OK" to your listing "write-ups" as a way to advertise your desire to rent to veterans. We look forward to partnering with you on our mission to end Veteran homelessness.
The HUD-VASH program provides housing and an array of supportive services to veterans experiencing homelessness by combining rental assistance from HUD with case management and clinical services provided by the U.S. Department of Veterans Affairs.
The HUD-Veterans Affairs Supportive Housing (HUD-VASH) program is a collaborative effort between the U.S. Department of Housing and Urban Development (HUD), the U.S. Department of Veterans Affairs (VA), and local public housing authorities.
---
The HUD-VASH program combines the HUD's Rental Assistance Demonstration Program with the VA's Supportive Services for Veteran Families Program to provide rental assistance and case-management services to eligible veterans and their families. HUD provides rental assistance through project-based Section 8 contracts, while the VA offers case-management services. This program was developed in the early 1990s, but it didn't receive much funding until the mid-2000s when veterans began returning home from Iraq and Afghanistan. Today, HUD-VASH continues pursuing its goal of ending homelessness for U.S. military veterans.
---
How does participating in the HUD-VASH Program benefit me?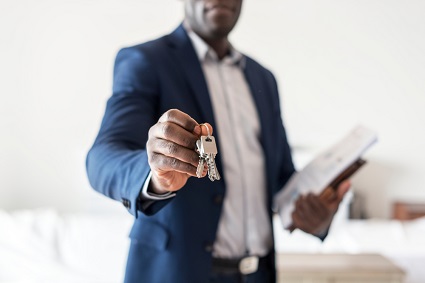 Under the HUD-VASH program, eligible low-income veterans receive a housing choice voucher alongside case management and supportive services from the VA at VA medical centers (VAMCs) and community-based outreach clinics (CBOCs).
Participating as a landlord in the HUD-VASH rental subsidy program helps provide critical affordable housing to Greater Los Angeles Veterans in need.
---
As an owner, you will also benefit from reliable monthly rent payments, veterans who come with a voucher in hand, low vacancy rates, and free annual inspections by the local public housing authority to ensure maximum property upkeep.
Are you interested in offering an apartment to the HUD-VASH Program? What are the next steps? There are folks that can help explain the process and take your rental unit information!
---
‹ Back
Comments ():