Turning Assessment Into Action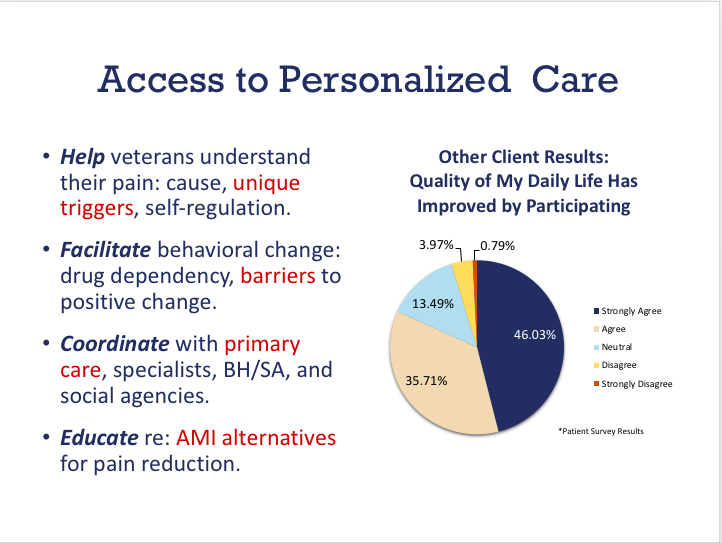 Innovative approaches to improving the quality of patient care, measuring the treating physician's clinical outcomes, and controlling unnecessary costs.
---
The Opioid epidemic in America stems in part from a chronic pain issue gone unnoticed and under-treated in the last decade. Identifying those patients with chronic pain can be difficult as no one specific diagnosis code exists to unmask it. The Institute of Medicine calculates the total cost of treatment, lost productivity, disability payments and legal fees related to chronic pain are greater than the total cost of medical care for patients with Coronary Artery Disease (CAD), Cancer and AIDS. On Jan 16th, 2019 American Group Contrax, AGX-LLC, and Advanced Medicine Integration Group, L.P. (AMI) formed a contract teaming agreement of mutual dependence and benefit to combat Chronic pain and its hidden co-morbidity. "AMI's unblemished reputation with the government and other customers made this teaming arraignment a no brainer," says De'Andre B. Wells Sgt. US Army Ret, AGX Founder and CEO. "Both firms have proven records of past performance covering elements analytics-based programs and we are excited about our future together."
The AGXI-AMI Integrative Chronic Pain Program (ICPP) is designed to improve both clinical and cost outcomes in a patient-centric, integrative, physical medicine delivery model. AGX-AMI's care management platform can easily integrate approved BH/SA providers, measurement tools, and other relevant Community Resources for referrals. Our Turnkey model is built on our Fully Credentialed Conservative Medicine Network. This is what makes our program so unique, RN Case Managers facilitate all services for each individual veteran within a 5 miles radius of veterans home: 5 miles is the Average Distance to nearest Fully Credentialed Conservative Medicine Network Provider. We are knocking down the demographic barriers by providing real-time access!!

AMI and AGX share the core values of Integrity, Bringing Vital Services to Under-served Populations, and the Integration of Health Services. Chronic pain is a hidden co-morbidity not captured by conventional data analytics and may be the invisible root cause of many other subsequent medical issues. AGX-AMI's integrated chronic pain program can create efficiencies, savings and better overall wellness of patients. What does AGX-AMI do that is different from other providers? AGX-AMI identifies the patients in your risk pool that suffer from chronic pain utilizing proprietary algorithms. AGX-AMI works with patients directly to develop unique patient-centric integrated treatment plans.

AGX-AMI Integrates low-cost, high patient satisfaction, complementary alternative medicine (CAM) treatments into the conventional medical case management of high-risk cases. The growing evidence base for the use of CAM modalities for chronic pain and AMI's own long term results suggest that these conservative non-pharmaceutical CAM options are highly effective in assisting the opioid patient to discontinue or significantly reduce their reliance on a failed and dangerous long term strategy. The AGX-AMI program:

---
•State-wide Credentialed Integrated Care Network
•Individual, Longitudinal Patient Care Management through Integrative RNs and Referral Coordination with other VA services
•Significant Patient Engagement, Satisfaction, and Remarkable Improvement in Quality of Life
•Patient-Centered Treatment and Veteran Management means long term reductions in:
Overall Medical Expense
Opioids/RX
Emergency Department/Inpatient
Integrative Nurses Partner and Guide Veterans
Customized Treatment and Education Plans
Prevention and Treatment
Behavioral Medicine
Primary Care Physicians
Conventional and Complementary Approaches
Integration of Social Services
This alliance possesses the organic resources of 22 years of Successful Integrative Patient-Centered Programs with evidence-based complementary alternative medicine solutions to pain management, opioid reduction, and overall medical cost savings. The outcomes and program we offer are for "Chronic Pain Plus". The patient population with whom we achieve these outcomes are those identified as having a chronic pain condition. Many who have chronic pain, as many may know, also suffer from other complicating conditions, such as behavioral health conditions and opioid use and abuse. At AGX we have chosen to focus on the chronic pain population for a number of reasons, namely the level of patient suffering and debilitation, the limited efficacy of allopathic treatments, the lack of patient access to effective care, high patient dissatisfaction and the overall high cost of care for this patient population.
Even with all of the challenges encountered while caring for this patient population, use of the AGX-AMI integrative, patient-centered approach addresses every one of the aforementioned challenges, to include patient satisfaction. For the chronic pain patient population, or use case, we are confident AGX-AMI can offer effective care and value. Although we all know opioid use and abuse is at epidemic levels, identifying veterans within that population with chronic pain is central to our standing in a position of confidence in achieving the outcomes we know we can provide.
‹ Back
Comments ():